Form an Oklahoma LLC
---




LegalZoom is your best resource to start your limited liability company online today. We provide a user-friendly service with hefty customer support to help you create an LLC in three easy steps. Protect your business and personal assets and organize your business with the help of experienced business formation experts.

When you form your Oklahoma LLC with LegalZoom, we prepare and file your articles of organization with the Corporations Division of the Oklahoma Secretary of State. We also conduct a name search for your Oklahoma LLC to assist you in the preparation of your operating agreement and other customized services corresponding to your needs. Once your articles of organization have been successfully filed, your Oklahoma LLC begins its existence as a legal business entity.



LegalZoom LLC Overview












Names



Registering a Limited Liability Company Name: Choosing a business name is one of the first steps in the process of forming your Oklahoma Limited Liability Company. The name that you choose:



Must contain, as the last words of the name, "limited liability company" or "limited company" or the abbreviations "LLC", "LC", "L.L.C.", or "L.C." The word "limited" may be abbreviated as "LTD." and the word "Company" may be abbreviated as "CO."



Must be distinguishable from (cannot be the same as or deceptively similar to) the name of any other Oklahoma Limited Liability Company, a domestic corporation, foreign corporation existing or which existed at any time during the preceding three (3) years, domestic or foreign limited partnerships or trade names, fictitious names, or other names reserved with the Secretary of State



A LLC may apply to the secretary of state for authorization to use a name that is not distinguishable if the following is filed with the Secretary of State:

o written consent of the other LLC, corporation, limited partnership, or holder of the trade name, fictitious name or other reserved name to use the same name with the addition of one or more words, numerals, numbers or letters to make that name distinguishable upon the records of the Secretary of State

o written consent that the consenting entity is about to change its name, cease to do business, withdraw from the state or be wound up

o a certified copy of a final decree of a court of competent jurisdiction establishing the prior right of such LLC to the use such name in this state

LegalZoom allows you to choose up to 3 names, in order of preference. We will conduct a name check for your Oklahoma Limited Liability Company before filing to see which names are available.

Reserving a Limited Liability Company Name: Once you have chosen an available name, LegalZoom can help you register your name with the state.



Formation Requirements



Articles of Organization: In any Oklahoma LLC formation, articles of organization must be signed by at least two persons organizing the LLC and delivered, along with a copy, to the Oklahoma Secretary of State, Corporations Division for filing. State law requires that certain information be included in your articles of organization for you Oklahoma LLC formation. This information must include:



The LLC name



The period of the LLC's duration (this period may be perpetual or for a set amount of time)



The street address of its principal place of business, wherever located, and the name and street address of its resident agent which shall be identical to its registered office in this state

Filing: Your LLC is considered organized once the original articles of organization and one (1) exact or conformed copy is delivered to the Corporations Division of the Secretary of State by one or more persons.

A certificate of organization will be issued and delivered along with the conformed copy to the representative of the LLC. The original articles of organization will in turn be filed with the Secretary of State along with the month, day and year of filing.

Additionally, an Oklahoma LLC formation generally requires inclusion and/or considering of the following:

Operating Agreement: Although not required, LLC members may adopt an operating agreement to regulate the internal affairs of the company, including the management of the LLC, which may also be amended and repealed as allowed by the agreement or applicable law.









Membership: A LLC must have one or more members. Requirements:



Minimum Number of Members: One or more



Eligibility Requirements:



Procedure for Membership: The member may acquire an interest in the LLC either (1) in proportion to their contribution or (2) otherwise in accordance with the operating agreement of the company.



Resignation of Membership: Certain prohibitions exist surrounding the ability of a member to resign from the company. A member may not withdraw unless the operating agreement expressly permits withdrawal in writing.



A member may not resign from a limited liability company except in accordance with the operating agreement



A member that withdraws due to wrongful conduct is liable to the company for any resulting damages, which may include the reasonable cost of replacing the services that the withdrawn member is obligated to perform



The limited liability company may offset its damages against the amount otherwise distributable to the member, in addition to pursuing any remedies provided for in the operating agreement or otherwise available under applicable law. The limited liability company shall not, however, be entitled to any equitable remedy that would prevent a member from exercising the power to withdraw if such power is permitted in the operating agreement.

The operating agreement may provide for the expulsion of a member, with or without cause, which shall include reasonable provision for the distributable interest.

Contribution: The contributions of a member to the LLC may consist of cash, property, services rendered, or a promissory note or other binding obligation to contribute cash or property or to perform services.



Registered Agent In Oklahoma



LegalZoom can also provide your business with a registered agent in Oklahoma. Every Oklahoma LLC must continuously maintain a registered office and agent ?the person or office designated to receive official state correspondence and notice if the company is "served" with a lawsuit.

To be eligible to serve as a registered agent for an LLC, a registered agent in Oklahoma may be (1) the Oklahoma limited liability company itself, (2) an individual resident of Oklahoma, (3) a domestic or qualified foreign corporation, (4) a limited liability company, or (5) a limited partnership. Each registered agent must maintain a business office identical with the registered office which is open during regular business hours to accept service of process and otherwise perform the functions of a registered agent in Oklahoma

Registered Office: The registered office may be but does not need to be the LLC's place of business.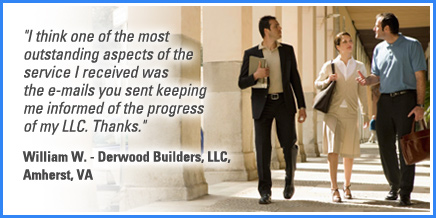 Oklahoma Secretary of State



Once an Oklahoma LLC has been created, the Oklahoma Secretary of State will require that certain recurring responsibilities and duties be fulfilled. The most important of these are described below. For further information, refer to the Oklahoma Secretary of State office.



Continuing Obligations



Records: Each limited liability company shall keep following records open to inspection at its office:



A current and a past list of the full name and last known business address of each member and manager



Copies of records that would enable a member to determine the relative voting rights of the members



A copy of the filed articles of organization and any amendments thereto



Copies of the limited liability company's federal, state and local income tax returns and financial statements, if any, for the three (3) most recent years



If such returns and statements were not prepared for any reason, copies of the information and statements provided to, or which should have been provided to, the members to enable them to prepare their federal state and local tax returns for such period



Copies of any then effective and past operating agreements and all amendments thereto



Unless provided in writing in an operating agreement, a writing setting out:

o The amount of cash and a statement of the agreed value of other property or services contributed by each member and the times at which or events upon the happening of which any additional contributions agreed to be made by each member are to be made

o The events upon the happening of which the limited liability company is to be dissolved and its affairs wound up

o Any other information prepared pursuant to a requirement in an operating agreement.



Annual Certificate: Each LLC (domestic or foreign) must file a certificate with the Oklahoma Secretary of State confirming it is an active business and providing its principal place of business address











Dissolution



Acts Triggering Dissolution: A LLC is dissolved upon the happening of any one of the following events:



Expiration of the duration of the LLC



Occurrence of event specified in writing in the operating agreement



Written consent by all members



Entry of a court order





Taxes



A LLC can offer certain tax advantages over a corporation, including the availability of more deductions. Additionally, a LLC is not required to be a separate tax entity like a corporation; instead it can be a "pass-through entity" so that the LLC owners report business losses or profits on their personal tax returns, like a partnership.

Federal Income Tax: Unless you elect to tax the LLC as a corporation, the IRS treats single-member LLCs as sole proprietorships for tax purposes. This means the LLC itself does not pay taxes and does not have to file a tax return. Unless you elect to tax the limited liability company as a corporation, the IRS treats multi-owned LLCs as partnerships for tax purposes. This means that LLC owners each pay taxes on their lawful share of the profits on their personal income tax returns, not the LLC itself. If you desire, by filing IRS Form 8832, you may elect corporate taxation if you regularly need to keep a substantial amount of profits in your LLC.

Federal Tax Identification Number: Your LLC may need to obtain a federal tax identification number (also known as an employment identification number/ EIN), which is similar to an individual's social security number. Generally, you will not need a separate EIN number for your LLC as long as you are the sole owner and the LLC has no employees. However, if you are not the sole owner of the LLC or if the LLC has employees, your LLC will need a separate EIN number to open a bank account and for certain tax filing requirements LegalZoom can prepare your Federal Tax ID Application if you have not already done so.



Fees



Filings must be made with the Oklahoma Secretary of State along with the appropriate filing fee. When appropriate, a check must accompany the document payable to the State of Oklahoma, covering all charges for the Secretary of State.