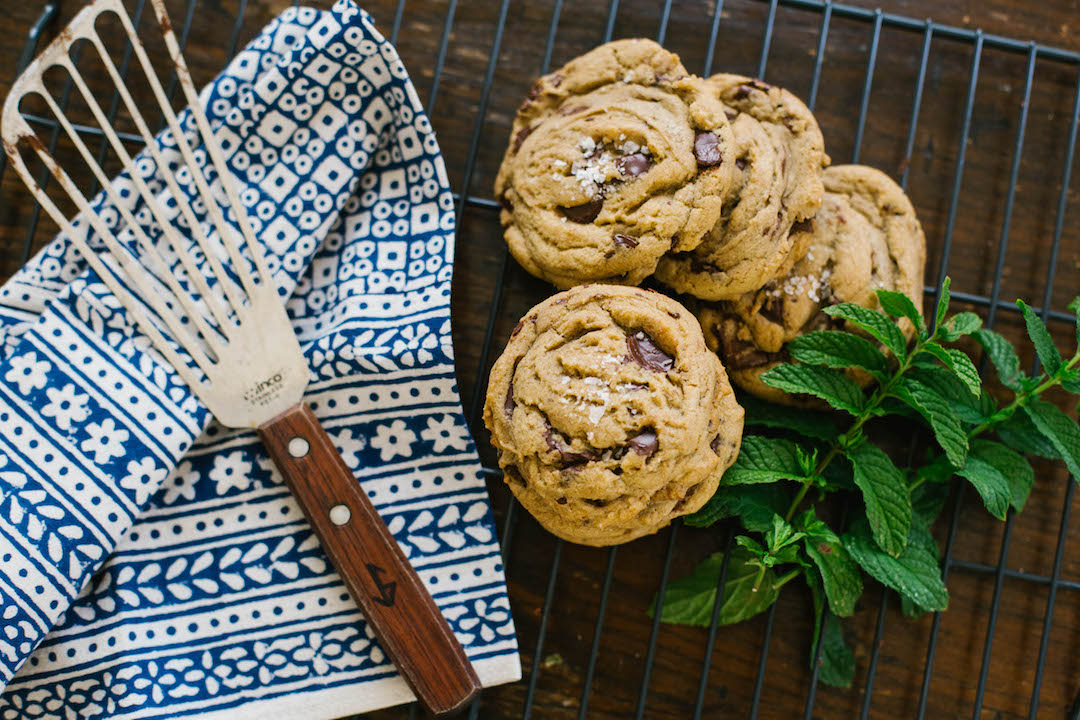 Liza Patriana recently quit her job of 10 years—the one she's had since college—to pursue her dream of opening her own bake shop. Her side hustle is now her full-time job.
Short for Electric Bibliotheque Cafe, Liza's online EBC Bake Shop offers perfectly packaged cookies from classics like Salted Chocolate Chip and Snickerdoodles to inventive options like her latest, Unicorn Tears (honey, lavender, and cardamom topped with a dusting of colorful sprinkles).
The other newest addition, Milkin' Cookies, is a great snack for nursing moms, as they're made with ingredients that help with milk production, including oats, brewer's yeast, flax seed meal, and barley malt. (For everyone else, they're just a healthy breakfast cookie.)
Liza's cookies are delivered to doorsteps across the United States and are available for pickup in Los Angeles. After a year in business, she has expanded her offerings to include freshly baked bread, which, for right now, is only available for pickup and delivery in L.A.
After making such a big leap, she shares with us the importance of a good support system, learning as you go, and dealing with the uncertainty that comes with launching your own business.
Where did the idea for a bake shop come from?
"Electric Bibliotheque Cafe started as a little pop-up dinner concept run out of my house with my boyfriend, Jonathan. We'd invite people over and serve multi-course meals for fun. Then, one day a few friends said they would pay to do the entire experience again. From there, EBC was born. We did dinners every two weeks or so.
"Jonathan cooked and managed the back of house and I ran the front of house and made most of the desserts. I remember Jonathan looking at a Polaroid of me carrying courses out of the kitchen and commented on how genuinely happy I looked in that moment. It really struck a chord in me. It was hard work, but it made me realize how much I looked forward to hosting these weekly dinners."
How did these dinners turn into an online bake shop?
"After doing dinners for over a year, Jonathan ended up pursuing his own business and building Parkman Woodworks. Dinners became few and far between, and I didn't want EBC to fizzle out, so I took the dessert component and ran with it.
"EBC evolved into an online bakery where people can order cookie gift packages and I took full ownership of it. I've also done a few private events and have even baked wedding cakes for a coworker."
When did you decide to take the leap and make this full-time?
"I've recently quit my full-time job of over 10 years to pursue my dream and turn this side hustle into my main gig. My career was my first and only job out of college and I didn't know anything else, so putting in my notice was so hard and emotional. But I knew if I didn't take this leap of faith, I would regret it.
"I was getting burned out and wasn't feeling creative. I had always thought about quitting but was too afraid of what would lie ahead. One day it hit me that I needed to make some big changes in my life, so I took that leap into the unknown. I'm about to dive into a whole new chapter in my life. I feel afraid, but really brave at the same time."
Do you have any advice for other creative people who are asking themselves the question, "Should I turn my hobby or side hustle into a full-time business?"
"Just do it! I have a great support system of family and friends and, when I told them about my decision to quit my job, the first thing out of their mouths was, 'It's about time! I really hope you are diving in head first into your baking.'
"If it doesn't work out, then it doesn't work out. But I get to say I did take this risk. Most of all, I am very excited to be working for myself on something I am passionate about, something that I am creating with my own hands and heart."
What's been the most challenging part so far?
"Honestly, finally getting the paperwork done to make Electric Bibliotheque Cafe a full-on LLC was a huge step, and I am so glad I was able to get it done easily with LegalZoom.
"Also, I am running my own business now instead of working for someone else, so being personally accountable is key. I've stepped into a new world—into a new role—and I am really just feeling things out, figuring things out on my own, and the biggest challenge really is asking for help."
Any helpful tips to share?
"Pick the brains of small business owners and entrepreneurs, network, and attend workshops and seminars.
"Treat growing your business as a marathon, not a sprint—as corny or cliche as it may sound. The first Monday after I quit my job, I put so much pressure on myself to hit the ground running and to ensure that every minute of my day was accounted for and that whatever I did had to be perfect. I ended up overwhelming myself and everything just started to seem daunting.
"My mindset had to change and I told myself to just tackle things on my list and chunk my days out, so that I tried to accomplish at least three things, or even just start three things.
"Start an accountability group. I started one with my friends and it helped us set weekly, monthly, and long-term goals. Plus, it's a built-in support system! I didn't have to feel so isolated and alone.
"Tackle things little by little.
"Allow room to fail. I've always been a bit of a perfectionist and would beat myself up if something didn't turn out okay. Failure and rejection are part of the big picture. If you turn them into learning opportunities, and remember that hearing 'no' from one person means you may hear 'yes' from many others, it will be less defeating."
What does the future of EBC Bake Shop look like?
"I'd like to really push the gift box deliveries and roll out new flavors. I would also like to go into wholesale and hopefully get my goodies in coffee shops. I worked for an agency in Silicon Beach, so I would love to tap into servicing offices there and into private events, as well.
"I've been learning more about local and freshly milled grains, and immersing myself into the bread baking world as of late. I've even included bread as a new menu offering in my online bake shop, so there are definitely a lot of opportunities ahead. This is my time to try things out, improve, fine tune, and then hone in on a specialty."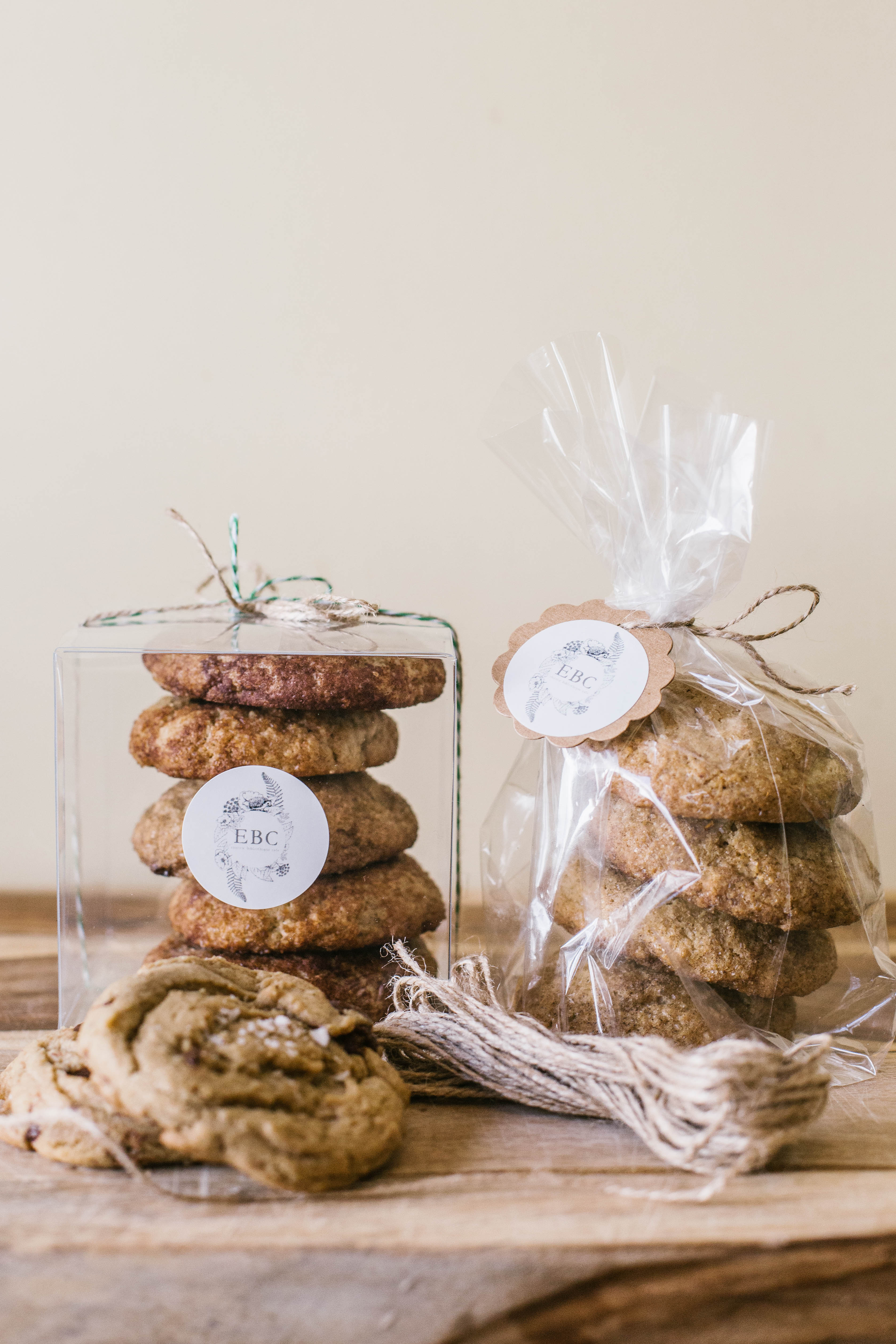 Photos by Leslie Leynes-Gimenez