When Josh Spencer graduated from college in the late '90s, he started selling books online. He'd heard of two e-commerce stores, Amazon and eBay, that offered a place to sell and purchase goods, and decided to sign up.
"These websites offered a new thing that no one had ever done before," said Spencer. "You could literally sell anything on those sites during that time and make money on it. Everyone was in a selling and buying frenzy because no one had certain access to products before."
Finding His Market
Spencer saw that Amazon and eBay were valuable because they provided access to people. He wanted to be the person to locate all those hard-to-find books.
Before online marketplaces, Spencer said, you would have to go to your bookstore and see if they had what you wanted. If it was out of print, you were probably out of luck. "When eBay and Amazon came along, it opened up a whole new world where every book could be attainable. People were buying things they'd always wanted, and you could make a profit on it. It was amazing to be there right at the beginning."
To find books that he would sell online, Spencer initially tapped into his personal collection. "The first group of books I sold was a bunch of cookbooks my grandmother gave me," he said. "She just had them in her closet."
Spencer would also spend hours in traffic everyday, searching all over Los Angeles for books. He'd drive to thrift stores, auctions, and sales. "It was a lot of hard work," he said. "I was just trying to survive and didn't really know what I was doing. It was years of trial and error and learning."
Staking His Claim
After a decade of exploring for books, Spencer had collected quite an inventory. In 2009, he decided to open The Last Bookstore in Downtown Los Angeles. The 22,000-square-foot space is home to 250,000 new and used books, as well as tens of thousands of vinyl records and graphic novels. They have numerous events, such as book readings and music shows, and 40 employees work at the shop.
It's one of the largest independent bookstores on the globe and has been featured in the Washington Post, the Los Angeles Times, and on CNN. It was also named one of the 20 most beautiful bookstores in the world by Flavorwire.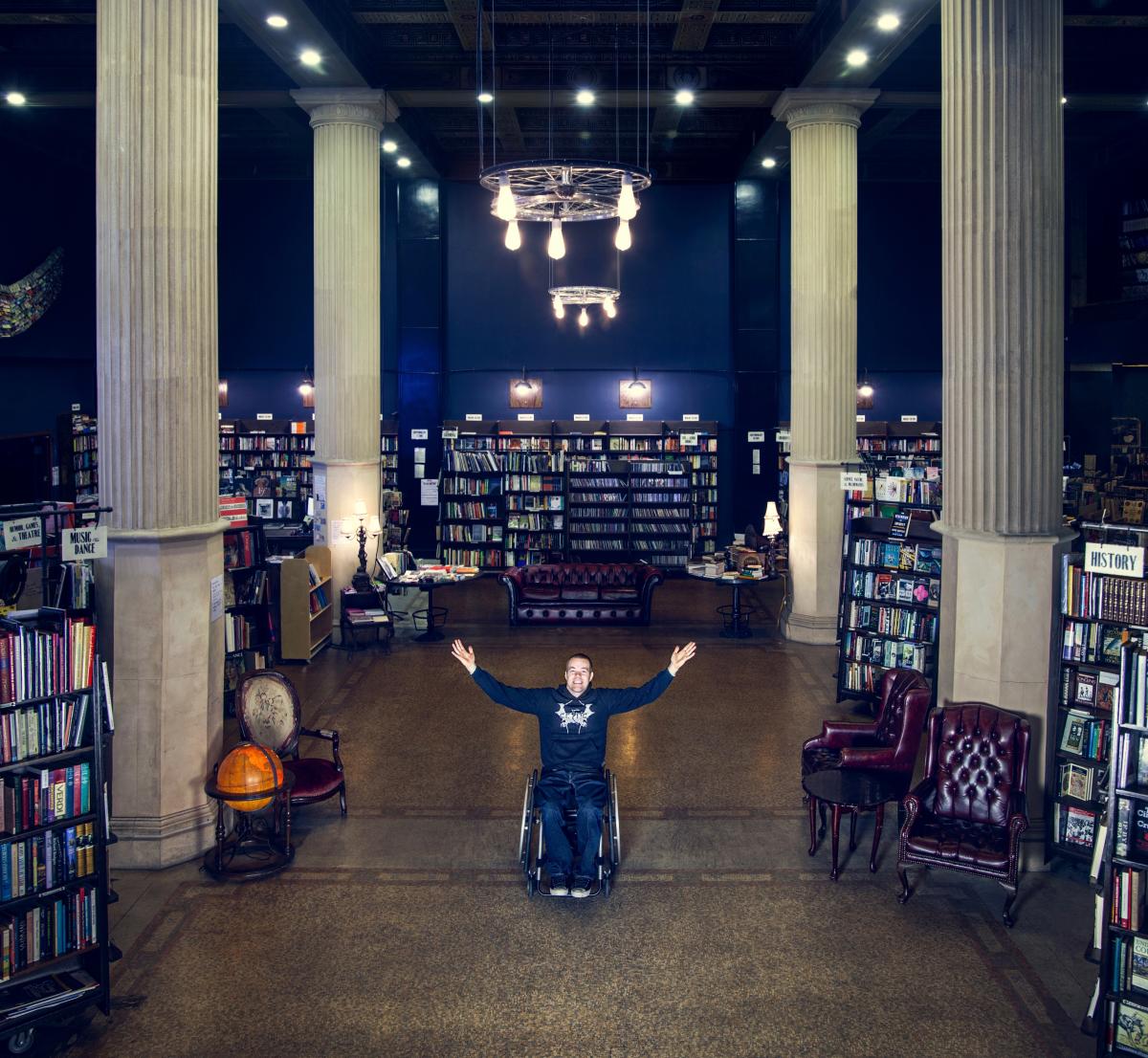 Overcoming the Usual Hurdles
Spencer has a deep passion for what he's doing. He said he enjoys "putting in a good 12-hour day sorting through our warehouse of books to find the hidden treasures." It's the business side of it that was more of an obstacle for him.
"We had the typical business problems, like trying to get the money together while writing a business plan," he said. "We had to check all the boxes in terms of our legal requirements and paperwork and permits. Then I just had to find a good staff. I made a lot of mistakes in the beginning, and I still make mistakes. It's not all fun and games. You have to do all these administrative tasks that some people like, but I don't."
The easiest part of setting up his business was establishing himself as an LLC through LegalZoom. "I clicked a couple of buttons, filled out a few forms, and I was done," he said.
Now, Spencer keeps up to date on all his responsibilities by answering emails for at least three to four hours per day and tracking his inventory on a daily basis. "In between, I eat lunch and take care of my kids," he said.
Being in the Right Place at the Right Time
Spencer has a knack for timing. He jumped on the eBay and Amazon bandwagons early on, and when he opened The Last Bookstore, Downtown L.A. was, and still is, being built up and seeing a population uptick. Plus, people are clinging to vinyl records and printed books.
"There's loyalty to the physical artifact," Spencer said. "It has more meaning for people than something they can click and download. People see what happened to the music industry and they don't want that happening to books."
Expanding His Brand
Spencer doesn't just stick to making a living through his brick-and-mortar store. He also sells a small percentage of books online. He's working with a website to sell his books directly to anyone in the world, as well. Hopefully, he said, that will be up and running by the end of this year.
A documentary is being made about The Last Bookstore that details what it's like behind the scenes of working in the shop. Spencer said he is going to pitch it to Netflix or post it on YouTube when it's done.
Spencer's life is also coming full circle. Now, instead of just being a bookseller, he's going to be an author himself.
"I'm writing a memoir about all the funny adventures I went through with my early book selling," he said. "It's a history of how I became a bookstore owner."
Photograph courtesy of Neil Remer