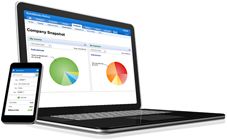 As a LegalZoom customer, you'll get a 3-month free subscription to QuickBooks Online, the #1 ranked accounting software.*
With QuickBooks Online, you'll be in control of your finances, your time, your business—and where you work.
You'll:
Simplify: with easy-to-use tools to get you started and free live support
Save time: by automating time-consuming accounting tasks
Organize: all your finances into one place to get the information you need fast
Analyze: your business using in-depth tools to see where you stand
Access: your data safely and securely from any Internet connection
Redeem this exclusive offer from LegalZoom and your first 90 days are completely free—no credit card required—and you can cancel at any time.