Back to overview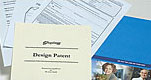 LegalZoom Provisional Application for Patent
Click to enlarge
View our comparison chart
LegalZoom's 3-step process was developed by attorneys from some of the most prestigious law firms in America. There are no complex instructions to follow and nothing to download or print. Simply answer a few questions and our affiliate patent attorney or agent will prepare your application.

Here's how it works:
Complete the Design Patent Questionnaire
Complete our simple online questionnaire. If you need assistance at any time, our customer care specialists are available. There is no need to finish the questionnaire all in one sitting (since we automatically save your work for you).
A Registered Patent Attorney or Agent Reviews Your Application
A patent attorney or agent will carefully review your application in detail and provide you with advice, comments and suggestions for improvement. The attorney or agent will then prepare your Design Patent Application, which includes multiple-view technical illustrations of your design (based on your sketches). For your convenience, we also offer a design patent search.
We Electronically File Your Application with the US Patent and Trademark Office
The attorney or agent will then file your application electronically with the US Patent & Trademark Office. You can relax, knowing that your application has been accurately and professionally completed.
Click here for a more detailed view of our Design Patent process.