Back to overview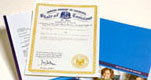 LegalZoom DBA Package
Click to enlarge
The LegalZoom 3-step process was developed by attorneys from some of the most prestigious law firms in America. There are no complex instructions to follow and nothing to download or print. Simply answer a few questions online and we'll take care of the filing.

Here's how it works:
Complete our DBA Questionnaire
Complete our simple questionnaire.
We Complete and File Your DBA Statement
Unlike many services that send you blank forms to complete, LegalZoom files your DBA statement with the appropriate government office. If required, we even perform a name search and publish your DBA in an authorized newspaper, at no additional cost.
Final Wrap-Up of Your DBA Order
We send your approved application to you, along with instructions on next steps.
Click here for a more detailed view of the DBA process, including government processing times.