Back to overview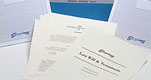 LegalZoom Last Will Package
Click to enlarge
The LegalZoom 3-step process was developed by attorneys from some of the most prestigious law firms in America. There are no complex instructions to follow and nothing to download or print. Simply answer a few questions online.

Here's how it works:
Complete the Last Will Questionnaire
Simply log into our secure online environment and answer a series of straightforward questions. Most people finish in minutes, but there's no rush. Your answers are saved automatically so you can return anytime to complete the questionnaire.
We Review Your Answers
Our LegalZip® software creates your last will after your answers have been reviewed for spelling, consistency and completeness.
Final Wrap-Up of Your Will Order
You can download your Last Will Basic package within 4 business days and the Comprehensive package within 2 business days. If you need your last will immediately, we offer same-day preparation for an additional fee. Simply follow our easy instructions to validate your last will.
Click here for a more detailed view of the process for creating a last will.