Back to overview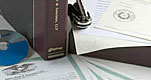 LegalZoom Deluxe LLP Kit
Click to enlarge
LegalZoom's 3-step process was developed by attorneys from some of the most prestigious law firms in America. There are no complex instructions to follow and nothing to download or print. Simply answer a few questions and we'll get started setting up your LLP.

Here's how it works:
Complete the LLP Questionnaire
Complete our simple questionnaire. With LegalZoom, you can select provisions to help you guard against personal liability.
We Create and File Your LLP Documentation
We create your documents, and file your Certificate of Limited Liability Partnership with the Secretary of State (or other appropriate state agency).
Final Wrap-Up of Your LLP Order
When we receive your filed Certificate of Limited Liability Partnership back from the state, we send it to you along with your other legal documents, as well as easy instructions regarding next steps.