Back to overview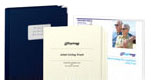 LegalZoom Living Trust Package
Click to enlarge
Click here to see our comparison chart
The LegalZoom 3-step process was developed by attorneys from some of the most prestigious law firms in America. There are no complex instructions to follow and nothing to download or print. Our online questionnaire will guide you step-by-step through our convenient process.

Here's how it works:
Complete our Living Trust Questionnaire
Complete our simple questionnaire. A LegalZoom Living Trust is not a set of generic forms, but a comprehensive revocable trust that is personalized based upon your questionnaire answers. It contains advanced options to protect your family, and even includes a free pour-over last will.
We Review Your Answers
Our LegalZip® software creates your Living Trusts after your answers have been reviewed for spelling and grammar.
Final Wrap-Up of Your Living Trust
We send your Living Trust according to your chosen shipping method. Your Living Trust is printed on archival paper and presented in a deluxe estate planning binder. Simply follow our easy wrap up instructions to validate and fund your Living Trust.
Click here for a more detailed view of our 3-step Living Trust process.