Back to overview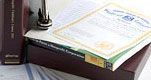 LegalZoom Deluxe Nonprofit Kit
Click to enlarge
The LegalZoom 3-step process was developed by attorneys from some of the most prestigious law firms in America. There are no complex instructions to follow and nothing to download or print. Simply answer a few questions and get started setting up your Nonprofit.

Here's how it works:
Complete the Nonprofit Questionnaire
Complete our simple questionnaire. If you need assistance, our online Knowledge Center offers extensive information on Nonprofit organizations.
We Create and File Your Articles
We create your organizational documents, and file the Articles of Incorporation with the appropriate state agency. We can even complete your 501(c)(3) application for tax exemption.
Final Wrap-Up
When we receive your filed Articles of Incorporation back from the state, we send them to you along with the rest of your formation documents. We even include a complimentary book to help you establish and run your Nonprofit, as well as easy instructions regarding next steps.
Click here for a more detailed view of the Nonprofit incorporation process, including government processing times.