Back to overview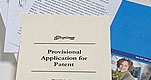 LegalZoom Provisional Application for Patent
Click to enlarge
View our comparison chart
FREE Shipping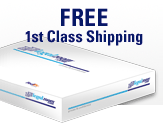 The LegalZoom 3-step process was developed by attorneys from some of the most prestigious law firms in America. There are no complex instructions to follow and nothing to download or print. Simply answer a few questions and we'll complete and file your Provisional Application with the USPTO.

Here's how it works:
Complete the Provisional Application for Patent Questionnaire
Complete our simple questionnaire. If you need technical assistance at any time, our customer care specialists are available to help.
Your Application is Created and Reviewed
Our LegalZip® system creates your Provisional Application for Patent. For your convenience, we can even create your technical drawings and perform a patent search. As an option, you can have your application reviewed by a patent professional.
Your Application is electronically filed with the USPTO
LegalZoom electronically files your application with the USPTO. Once your application has been accepted, you will receive an official letter of approval by mail.
Click here for a more detailed view of our Provisional Application for Patent process, including government processing times.
To see the attorney in your area who is responsible for this advertisement, please click here. If you live in Alabama, Colorado, Florida, Iowa, Minnesota, Missouri, Montana, Nebraska, New Mexico, New York, South Dakota, Utah or Wyoming, please click here for additional information.
This advertisement and all attorney services may be subject to additional terms and conditions, located on the website of each attorney. Please visit the website of the sponsoring attorney in your area for more details. Any arrangement made by you and your attorney is strictly between you and them.