Back to overview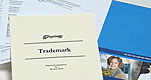 LegalZoom Trademark Registration Package
Click to enlarge
View our comparison chart
The LegalZoom 3-step process was developed by attorneys from some of the most prestigious law firms in America. Our instructions are easy to follow, and there is nothing to download or print. Simply answer a few questions and we'll complete and file your application.

Here's how it works:
Complete Our Trademark Questionnaire
Our trademark questionnaire has been specially formulated to get the relevant information from you in the least amount of time.
We Generate Your Trademark Application
LegalZoom will search the federal trademark database for direct conflicts. If you'd like, we can also perform a comprehensive search that includes state and common law trademarks (fees apply). If you are comfortable that there are no conflicts that would stop the USPTO from registering your trademark, your federal trademark application will be completed using our LegalZip® software. All completed documents will be delivered to you by email for your electronic signature.
Final Wrap-Up of Your Trademark Order
After we receive your signed documents, we will electronically file your application with the USPTO. Once the USPTO has accepted your application for examination, you will receive an official letter from the USPTO.
Click here for a more detailed view of the trademark process, and details on government processing times.