Bringing up the need for a prenuptial agreement can be tricky. After all, you and the love of your life are contemplating happily ever after, while a prenup is about what happens if your marriage doesn't last. But for many people, a prenup can be an invaluable tool. So how can you approach writing a prenup with your future spouse without ruining your relationship?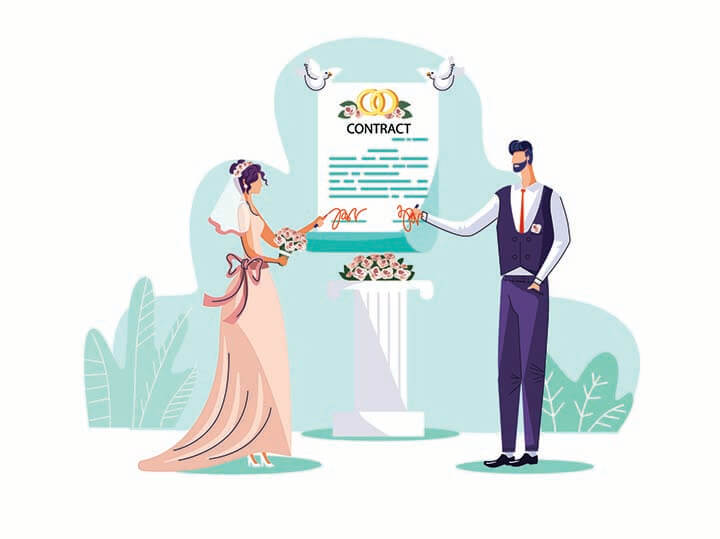 What is a prenuptial agreement?
According to estate-planning attorney Shann Chaudhry, a prenup details what assets—for example, money, investments and properties—each of you is bringing to your marriage, how these assets will be handled during your marriage and what will happen to them if you divorce.
A prenuptial agreement is not just a legal tool for the wealthy. Chaudhry notes other situations in which a prenuptial agreement can be beneficial, even if neither you nor your partner will be bringing any money into the marital relationship at the outset. For example, a prenup might be advisable if either of you expects to inherit assets in the future or if you or your partner own a small business.
How to talk about prenups
While bringing up the idea of a prenup might seem difficult, it doesn't have to be. It's important to remember that a prenup doesn't just involve money. It also touches on issues such as family matters, children, and career goals.
"A good prenup process can help you turn those weak spots into a real partnership," Chaudhry notes. "Before you sign a prenup, you have to talk—honestly—about all of these things. This sets the stage for openness throughout your marriage, making you better equipped to resolve conflicts and weather tough times."
Regina A. DeMeo, family law attorney and adjunct professor at George Washington University Law School, adds: "If you can't talk about money issues, you shouldn't be getting married. Marriage is a legal arrangement with major financial implications. Your partner should be someone who wants to work with you toward addressing all your concerns, including the financial ones."
But what do relationship experts say about prenups? Relationship coach and licensed clinical social worker Dona Rutowicz says that, while bringing up a prenup might be tricky, it can also be a gift for your relationship. "A prenup might not be the 'sexiest' conversation to have with your soon-to-be spouse, but it doesn't have to be as hard as you might think," she says. "It can actually bring a couple closer together, even if only one party has significant assets."
Rutowicz sees the prenup discussion as a chance to discuss a number of important issues before marriage. She points out that, if you find you can't have an open conversation now, before you get married, about issues such as money and children, it doesn't bode well for your future together. Having these tough, honest conversations early can also help you learn some important things, like your future spouse's value and belief systems, and their ability to have open, intelligent discussions.
How to approach your future spouse about a prenup
If it all sounds easier said than done, the following tips can help you to bring up your desire for a prenup with your future spouse:
1. It's a conversation, not a demand. Rutowicz emphasizes the importance of approaching the issue as a conversation rather than a demand. "The topic can hold a very different meaning for a person if they're invited to have a discussion rather than being told to do something," she says. "For example, 'Let's talk about getting a prenup' is very different from stating, 'We're getting a prenup.'"
Family law attorney and mediator Susan Guthrie agrees. "Do not present them with a fully drafted agreement as an opener to the conversation," she says. "Treat the creation of the agreement as a joint project."
2. Timing is important. It's not a good idea to spring the idea of a prenup on your future partner a few weeks before your wedding. "Don't casually toss out the idea as you're planning your honeymoon," Chaudhry says. "Instead, start the conversation early and allow for plenty of back and forth."
Guthrie points out that springing the topic on your soon-to-be spouse at the last moment is a recipe for disaster. "This is a conversation that should start shortly after the engagement, not at the church door," she notes.
3. Work the topic into a broader conversation. Chaudhry notes that it can be helpful to approach the idea of a prenup within the confines of a broader discussion about your finances or your future plans as a married couple.
He also suggests comparing prenuptial agreements to life insurance or the preparation of a will. Wills and life insurance are intended to benefit all parties. "You hope you'll never need to look at these kinds of documents after they're signed, but having them in place can give you the assurance that, even if the worst happens, everyone will be taken care of," he says.
Creating a prenup that's fair for both parties
Ultimately, the prenuptial agreement needs to reflect the desires of both you and your future spouse, as well as protecting each of you in the event of a marital breakdown. Guthrie notes that it's not uncommon for one party to be in a less advantageous position in terms of the financial assets they're bringing into a marriage.
"In such instances, it's important for the 'disadvantaged' individual to have adequate support, usually in the form of a good attorney and perhaps a financial advisor as well, so that they can come to the table able to advocate for themselves appropriately or have their advocate handle the negotiation for them," she says.
Her personal preference? She suggests couples use a mediator who, as a neutral, trained professional, can support them each as needed to reach fair agreements. "Importantly, the mediator does not determine what is fair, but assists the couple in determining what they each feel is fair and can live with, within a framework of the facts and what the law provides," she says. "It can be hard to contemplate the possibility of divorce when you're about to get married, but that is exactly what a prenuptial agreement does, and most individuals need some help facing the difficult conversations that need to be had. A good mediator is invaluable in this instance."
Broaching the topic of a prenup can be challenging. But a prenup can also be an essential document, particularly if you have premarital assets to protect. But take heart: There are ways to approach the subject and work together to write a prenup agreement that's fair to both of you, all without ruining your relationship.
Find out more about Marriage & Domestic Partnership