Back to overview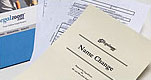 LegalZoom Name Change Kit
Click to enlarge
The LegalZoom 3-step process was developed by attorneys from some of the most prestigious law firms in America. There are no complex instructions to follow and nothing to download or print. Our online questionnaire will guide you step-by-step through our convenient process.

Here's how it works:
Complete our Name Change Questionnaire
Complete our simple questionnaire.

Please note: Newlyweds or those going through a divorce may not need our service and should contact the government agency that issued the marriage license for more information on name changes.
We Create Your Name Change Documents
Our LegalZip® software creates your Name Change documents for easy filing.
Final Wrap-Up of Your Name Change Order
We'll mail your completed name change documents within 2 business days, along with easy-to-follow instructions for filing the paperwork with the courts.
Click here for a more detailed view of the Name Change process.