Back to overview

FREE Shipping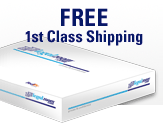 If you filed an Intent-To-Use Trademark Application, a Statement of Use Extension grants you an additional 6 months to file your initial Statement of Use with the USPTO. Filing an Extension Request is required if you haven't begun using your mark in commerce. LegalZoom can help you quickly prepare and file your Statement of Use Extension Request. Here's how it works.

Here's how it works:
Complete the Questionnaire
Our questionnaire has been specially formulated to obtain from you the relevant information in the least amount of time. If you need assistance, our customer care specialists are here to help.
Review Your Information
Once your Trademark Statement of Use Extension Request is completed through the LegalZip® system, we'll email it to you for electronic signature.
Final Wrap-Up
Once we receive your e-signature, we'll file your request with the USPTO. You'll receive an email from us verifying that your submission is complete.