The workplace is where people spend the majority of their time. Unfortunately, situations arise in which one may be harassed at work, making the workplace unsafe. Companies must do everything they can to ensure a safe environment in which employees can feel confident, which in turn will encourage productivity.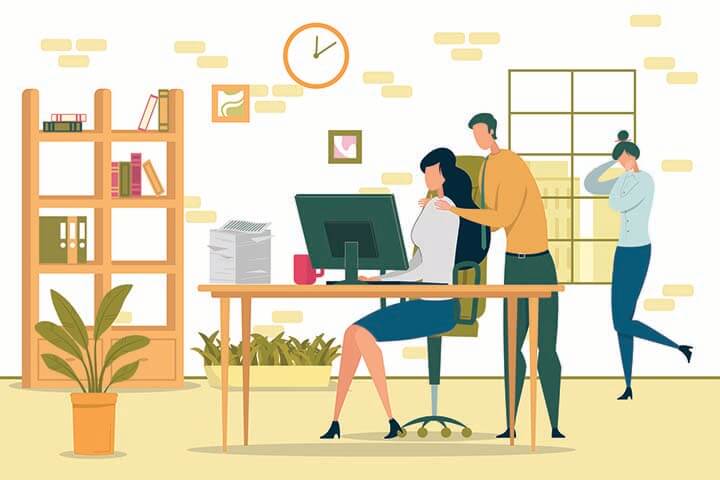 What Is Workplace Harassment?
According to the United States Equal Employment Opportunity Commission (EEOC), workplace harassment is, "unwelcome conduct that is based on race, color, religion, sex (including pregnancy), national origin, age (40 or older), disability or genetic information." According to the EEOC, in order for workplace harassment to be considered unlawful, "the conduct must create a work environment that would be intimidating, hostile or offensive to reasonable people."
How Does Workplace Harassment Affect Companies?
The damage done by workplace harassment stretches far beyond the victim and the aggressor. When workplace harassment occurs, personal and financial damage results.
Karine Bah Tahé, founder and CEO of Gender Bridge, trains staff on harassment prevention. According to Bah Tahé: "[Harassment] will negatively affect your company's biggest asset—its people. Some of the impacts are damaging the mental health of the parties involved, reducing the productivity of the parties involved as well as the witnesses, ruining your brand image and reducing the pool of top talent."
Additionally, Bah Tahé warns of the financial impact. "The cost of a single claim made (solved internally) is $125,000 on average due to the internal investigation and the turnover it generates," she says. "The cost of a claim can go up to $6,000,000 when the case is settled in court."
How Can Companies Prevent Workplace Harassment?
Preventing workplace harassment requires putting in place procedures and policies that allow employees to recognize workplace harassment.
According to Brett Holubeck, a labor and employment law attorney with Alaniz Law & Associates in Houston, training is key. "Companies can prevent harassment by conducting bystander training to help employees intervene when they see harassment, supervisor training to prepare supervisors to quickly and effectively respond to harassment, and by ensuring that employees have multiple ways to report harassment and multiple individuals at the company that can receive their complaint," he says.
What Is Workplace Retaliation?
Workplace retaliation occurs when an employee is punished in some way for reporting workplace harassment. For employees who suspect they are being retaliated against, Bah Tahé suggests seeking legal assistance.
"The first step to take is to consult with an employment lawyer who is experienced in this specific area," she says. "The lawyer will help you determine if you have a case, how to prove it and how to protect yourself. You will need to file a charge to the EEOC within the applicable deadlines. You can also report retaliation to your state and local agencies."
How Should Companies Prevent Workplace Retaliation?
To prevent workplace retaliation, Paula Brantner of PB Work Solutions recommends having a clearly laid out procedure. "You can't wait until you have a problem because that invites people to mishandle it," she says. "If you lay it all out in advance—'this is the policy, this is what happens, and anyone who doesn't follow that will be held accountable'—that communicates that this is something they take seriously, that retaliation will not be tolerated and that the primary goal is to both prevent harassment from happening and, if it does happen, to ensure there are consequences so it doesn't happen again."
Additionally, Brantner advises contracting a third-party reporting agency to handle a company's claims. "A lot of people do not feel like it is safe to report to their company when harassment happens," she says. "Harassment is almost always a power relationship and a disparity of power."
At her own company, Brantner conducts investigations and advises companies of her findings before revealing who the perpetrator is. "I can give the results to the company without the identifying information, and they can decide the consequences, no matter who it is," she says. "The decision is removed from the company politics, and a company can decide is this behavior part of our culture or not."
Workplace harassment and retaliation have no place in safe and successful work environments. By proactively putting plans in place to prevent workplace harassment and retaliation, companies will reduce these incidents and contribute to a positive and profitable work culture.