Para leer este artículo en español, haga clic aquí.
There are more than four million Latino-owned small businesses—and counting—in the United States. These contribute hundreds of millions of dollars annually and help fuel the relatively robust and healthy U.S. economy. They also outpace the growth of small businesses among other demographic groups.
But with the significant role they play in the economy, Latino business owners also have big worries, like the rising cost of healthcare and looming tariffs.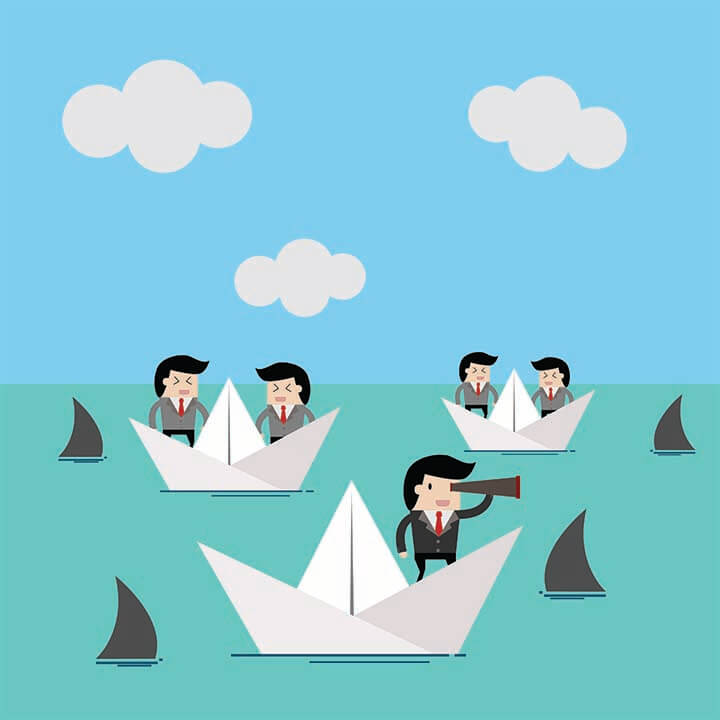 Healthcare and the Costs of Doing Business
More than any other issue, the number-one concern among Latino-owned small businesses is the rising costs of doing business. A survey of healthcare costs for small businesses found that eight in 10 small businesses worry about healthcare costs for their employees. "The small business insurance premiums are up, they're worsening, and the [insurance] policies are getting tougher," says Ignacio Permuy, who has 10 employees.
And he adds, "It's harder for us as a small business to compete with larger companies when they can offer more [health] insurance and we're not able to do that. And it becomes tougher to hire. If there were some way for smaller companies to get together to form a larger type of competitive grouping, that would be very beneficial."
And it's not just healthcare costs, but the rising costs of everything else that goes into having a business and keeping it afloat, says Raúl Rodríguez, who along with family members owns La Plaza bakeries in central California. "It's paying all the taxes and insurance, rent or mortgage for the buildings. It's hard here in California to do that because everything costs so much. Every time we meet with our accountant, it seems like we get a bigger and bigger tax bill that we have to pay. It's real difficult to keep going and stay profitable."
Finding capital to keep the business afloat is another concern, adds Hernández. "Especially in the tech industry, conventional banks don't understand your business model because they may not understand your infrastructure, since they look at it from a conventional, [fiscally] conservative way. What ends up happening is you can't go to a conventional bank, so you go to friends and family or to places with high interest rates and you realize it's highway robbery, but you take the deal anyway because you need it. It's extremely difficult for tech entrepreneurs to get funding."
Nonetheless, Ignacio Permuy says he feels optimistic going forward. "I definitely feel a positive climate for business, and it's better, but that's not to say that it can't improve. Healthcare, tariffs, there are a lot of opportunities to continue to help the small business owner."
Tariffs, Tariffs and Latin America
Even while President Trump backtracked from a threat to impose a 10 percent tariff on $300 billion imported goods from China by September 1, the possibility still exists as Trump indicated the increase would be pushed back to mid-December. If it does go through, that tariff would affect a wide array of consumer products, including electronics, and when President Trump talks about tariffs, Xavier Hernández worries.
"Tariffs should keep everybody up at night because a lot of entrepreneurs use e-commerce platforms and that's how they import a lot of their goods," says Hernández, who owns BTEC, a technology company in Chicago. "Let's say 99 percent of my inventory comes from outside the country, even if the products are inexpensive, how do you make a profit with the tariffs? How, as a business owner, do you manage when, particularly in the tech world, a lot of hardware is coming from overseas?"
"As you look around your home, a lot of that stuff—laptops, cellphones, all electronics, for example—is imported," and tariffs will make those more expensive and harder for a small business such as his to absorb.
And partly because of that, Hernández adds that he has a conservative and reserved business outlook these days. "We don't know what's going to happen with Trump in office and what he's going to say, whether it's a conflict with North Korea or China. We just don't go out on a spending spree, we just stay cautious."
Florida businessman Ignacio Permuy, President of Permuy Architecture, considers tariffs to be a relatively minor issue for now, but it is something he is watching closely. "We are seeing some growing concern from clients, developers, about the uncertainty of the future. In construction, for example, we are seeing that some clients and contractors who use foreign steel are feeling a squeeze."
As a Miami-based business, Permuy Architecture has international clients, and U.S. policy towards Latin America is an issue the firm follows closely. "Even a small change in Latin American policy has a potential economic impact. Here in Miami, we pay a lot of attention to that," says Antonio Permuy, the firm's Communications Director.
What Candidates Aren't Talking About
In addition to the rising costs of doing businesses, regulations can make or break a small business, and it's an issue that's not being talked about enough by the president and those who aspire to replace him in 2020, says Antonio Permuy.
"Whatever happens in business development has an effect on everything else, and a slow development environment could mean a slower economy. Regulations impact small businesses in a unique way. Larger firms can adapt because they have more revenue. Our number one concern as a small business is economic policy. After all, at the end of the day, a lot of people vote with their pocketbooks."