Putting together a final wishes document can be emotional and overwhelming. To ease some of that stress, start by writing a letter of last instruction to provide essential information that your family members will need after you pass. This document provides instructions that guide your loved ones through the estate planning process by condensing important funeral, financial, and personal information.
Read this guide to learn more about what a letter of last instruction is, the elements to include in your letter, the steps to create one, and tips for creating your final wishes.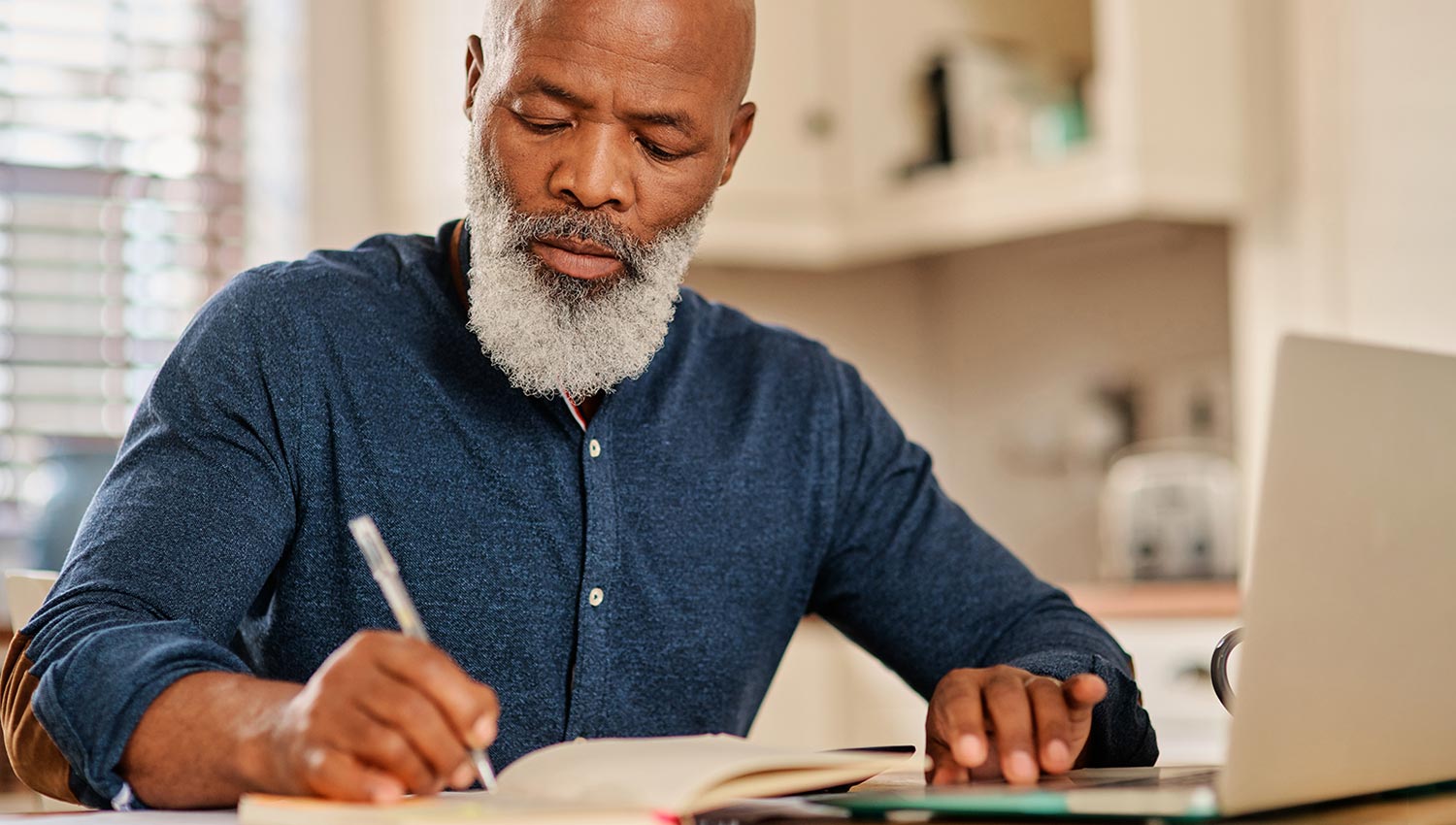 What is a letter of last instruction?
A letter of last instruction is a document that allows you to organize and give your family instructions pertaining to your final wishes. This document typically lays out your legal documents, important personal and financial information, and funeral wishes, among other items.
It's important to note that a last wishes document is not a will or a substitute for one since it's not legally binding. A will is a legal document that states what you want to do with your assets after your death.
Although a letter of last instruction is not legally binding, it's a very helpful way of guiding your family. It's also valuable because you're able to update it whenever you like without having to pay to do so.
7 elements to include in your letter of last instruction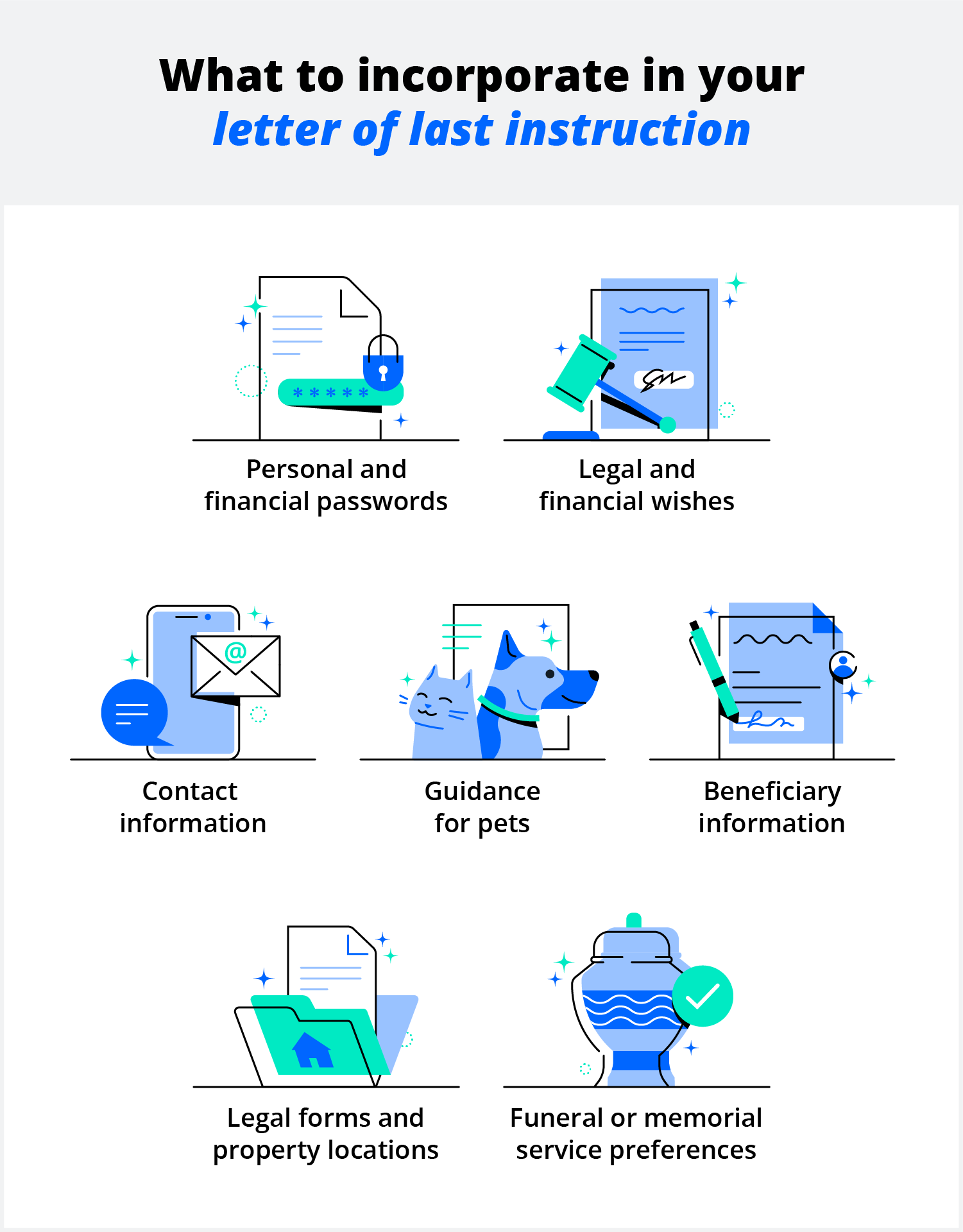 The goal of a letter of last instruction is to provide all of the necessary personal, medical, and financial information needed to ensure that your affairs are handled the way you want them to be after your death.
Here are seven key elements you should consider including in your last wishes document.
1. Contact information
The first element you need to lay out in your last letter of instruction is your essential contact information. This includes:
Personal contacts: This should be a list of people who must be notified of your death. These people can be any family members, friends, business associates, clergy, or anyone else you keep in personal contact with.
Financial and business contacts: This includes contact information for people like your financial adviser, insurance agent, accountants, and attorneys.
When creating this list, ensure all contact information is as detailed and updated as possible.
2. Legal form, document, and property locations
Next, come up with a list stating the locations of your legal forms, documents, and property locations. This includes the location of:
Bank accounts
Insurance policies
Wills
Trust documents
Contracts
Birth certificates
Marriage and/or divorce certificates
Social Security cards
Income tax returns
Veterans benefit files
Mortgage papers
Deeds and titles, including an automobile title
Be sure to also include a list of your account numbers in addition to the bank account locations.
3. Personal and financial passwords
When creating your final wishes, ensure that your personal and financial logins and passwords are handy when your family needs access. This is important so that whoever is in charge of administering your estate can access your accounts to close them.
These passwords can include:
Banking: Include logins to your bank accounts, including the account and routing numbers
Email: Any email accounts that you have should be provided, like Google or Yahoo
Subscriptions: This can be information for accounts like AAA, AARP, store memberships, TV subscriptions, and shopping services
Social media profiles: LinkedIn, Facebook, and Instagram are a few examples of what to include for this
Automobile information: If you own one or multiple cars, jot down the year, model, make, license number, ID numbers, and the location of the title
Doing so can ensure that your financial information is secure and that your information is not misused after you pass.
4. Beneficiary information
Include your beneficiary information in your last wishes document. These are the names and contact details of the person(s) or heirs that you have named in your life insurance policy to receive the death benefit.
Additionally, you can include instructions here on who should receive specific items or belongings. For example, if one of your kids requested a specific heirloom, you should indicate that their wish be honored.
5. Guidance for pets
If you have any pets, you'll want to provide instructions on how to care for them and any additional information, such as pet trust information. Who do you want to take ownership of them? Is any special care needed, like specific feeding schedules or medication? This is also a good place to list your pet's veterinarian information.
6. Funeral or memorial service wishes
You'll also want to get your funeral plans and memorial service wishes aligned within your letter of last instructions. Here are some critical questions to ask when building this out:
Do you plan on having a funeral or a memorial service?
Where do you want the funeral or memorial held?
What type of funeral or memorial service would you like?
Are any services already paid for?
Do you wish to be cremated or buried?
Do you wish to be an organ donor?
Would you like to donate your body to scientific research?
Are there any specific people you want to deliver your eulogy?
If you'd like an obituary, what are some details you want in it?
In this section, provide deeds of plot ownership and specific instructions regarding things like music, flowers, and pictures. You can also provide your last wishes for health care, such as whether or not you agree to life support.
7. Legal and financial information and wishes
This section should state your final wishes for any legal or financial assets. Typical wishes for this include:
Any charity donations or charitable trust information
What valuables or properties are you leaving behind
Checking and savings account balances
Stocks, bonds, mutual funds
Business property
Credit cards
Loans
Information about any outstanding debt
If any debts are owed to you, make sure to include collateral, full contact details of the debtor, payment terms, and additional information.
How do you write a final wish letter? 4 simple steps
While there's no universal process to follow or "right" way to put together your document, it's still important to ensure that your letter contains the right information and is easy to read. Follow these four steps when putting together your final wishes.
1. Create your list of information
Keeping the elements above in mind, the first step in creating your final wish letter is to compile your list. Here's a recap of the elements to include:
Contact information
Legal forms, documents, and property locations
Personal and financial passwords
Beneficiary information
Guidance for pets
Funeral or memorial service wishes
Legal and financial information and wishes
Health and medical wishes
Tip: Be sure to also title and date your document, so others will know this is a last wishes document and when you created it.
2. Organize your lists
After compiling your information, organize your list into categories to make it easier to follow. Aim to be concise and clear, and don't hesitate to add any personal touches or details that your beneficiaries may benefit from.
Tip: To make your list of information easier to read, consider putting them into bullet points beneath each category.
3. Reflect and revise your letter
Once you've drafted your letter, take some time to reflect and revise. This will allow you to ensure you've included all the necessary information and stated your most up-to-date wishes. This isn't a legal document, so you can revise the document whenever you want.
Circumstances and relationships can evolve and change. So consider marking a date on your calendar annually to look at the letter and make additions if necessary.
Tip: Every time you revise your final wish letter, make sure to adjust the date on the documents—this will help add further clarity to the estate planning process when the time comes.
4. Make copies and store them in a safe place
After you've completed your last letter of instruction, make sure you make several copies. Additionally, since this document contains all of your sensitive and personal information, ensure you store the original document and its copies in a safe place.
Provide copies for your attorney or executor and keep one for you and your family—only share this document with those you trust.
Tip: Consider storing it somewhere online, such as your email, so there's a digital copy available if the physical copy goes missing.
Tips for writing your final wishes​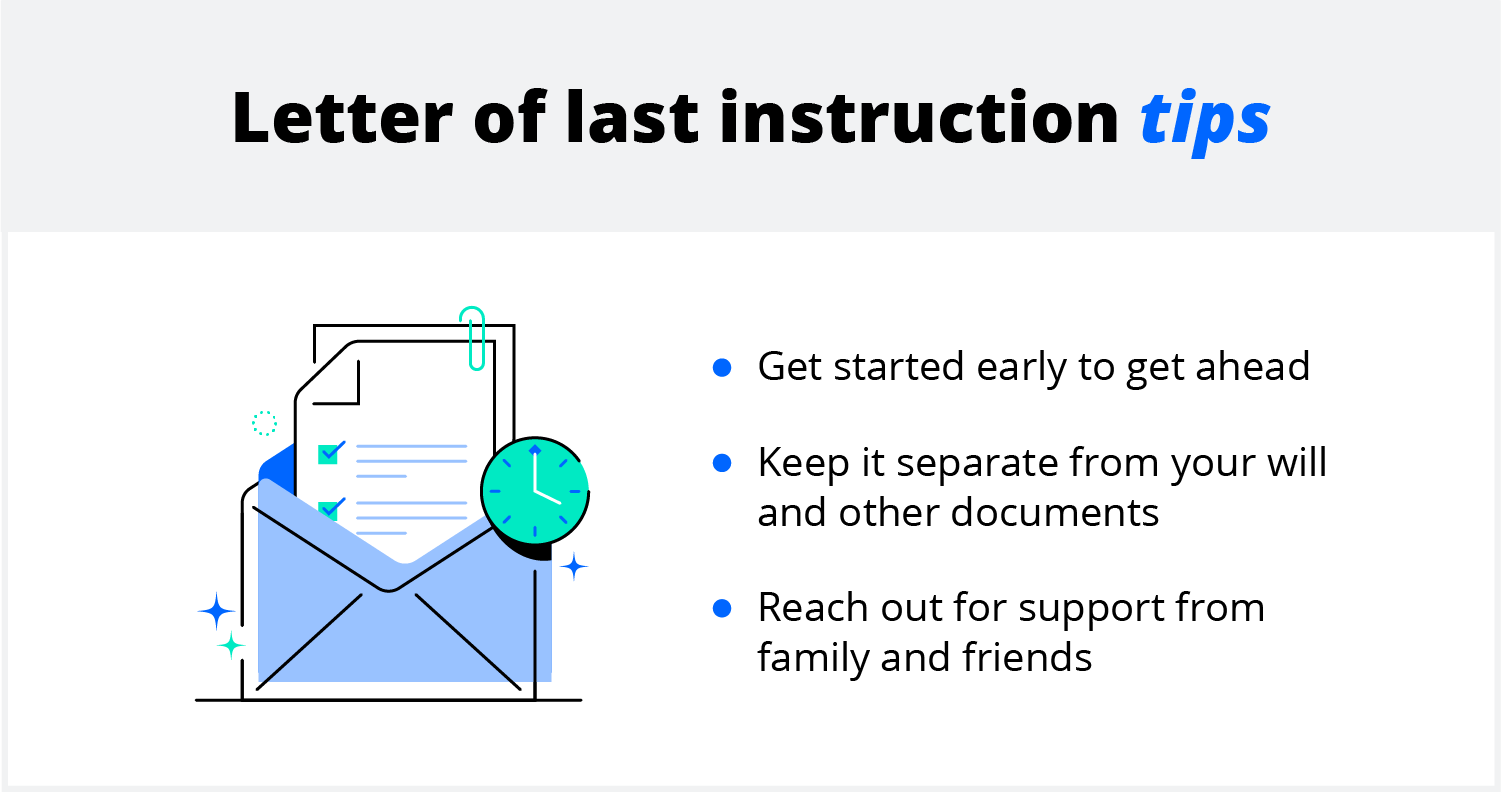 Putting together your letter of last instruction can feel stressful, but there are several things you can do to relieve some of the pressure. Below are some helpful tips to keep in mind when drafting your final wishes document:
Get started on your final wishes early
It's never too early to compile your final wishes—the sooner you do this, the better. That way, you can take as much time as needed to ensure that you include as much information as possible. Preparing early can also give you the opportunity to spare your loved ones from making last-minute arrangements during a time that's already difficult.
Keep it separate from your will and other documents
Your will is not the same as your final wishes document. Ensure that you keep your letters of instruction separate from your other estate planning documents, such as your last will and letter of testamentary.
But you may want to consider attaching a copy of your document to those other estate planning documents in order to help provide additional information and context to your wishes and terms.
Keep your loved ones in the loop and discuss your plans. 
Reach out for support
Be sure to lean on friends and family for support during this time—they can be an uplifting system that can help you sort out and organize your final wishes. It's also important to keep your loved ones in the loop and discuss your plans. This can help ensure that no surprises pop up down the road.
Why it's essential to create a letter of last instruction
There are many reasons to put together a last wishes document, but ultimately it's there to help the friends and family you'll be leaving behind. Regardless of the reasons for your final wishes, they should always be made known and honored. Here are some additional reasons why you should create a last letter of instruction:
Organization can help you feel at peace: It's comforting to know that your affairs are in order before you pass. A final wishes document can help you feel at peace.
Helps save time: Having your final wishes in order ahead of time can save your family time and money when planning affairs and takes out any guesswork.
Gives you some control: Creating a letter of last instruction helps you feel more in control since you'll be giving directions on what you want to happen after you pass.
Get your final wishes organized to feel at peace
Creating and putting together your final wishes document can be emotional and challenging. But it allows you to give your loved ones direction based on clear guidance in your last letter of instruction.
To ensure that your loved ones and property are protected, consider starting an estate plan today.
Find out more about Estate Planning Basics