With the pandemic in full swing, retailers are feeling the heat as customers stay home and keep their wallets tucked away with them. Independent businesses may find some relief during Small Business Saturday®, which occurs every year on the Saturday after Thanksgiving. The event focuses on promoting small businesses and raising awareness about the important role they play in communities.
As the coronavirus takes the air out of the economy, this day dedicated to celebrating small business is even more important than usual.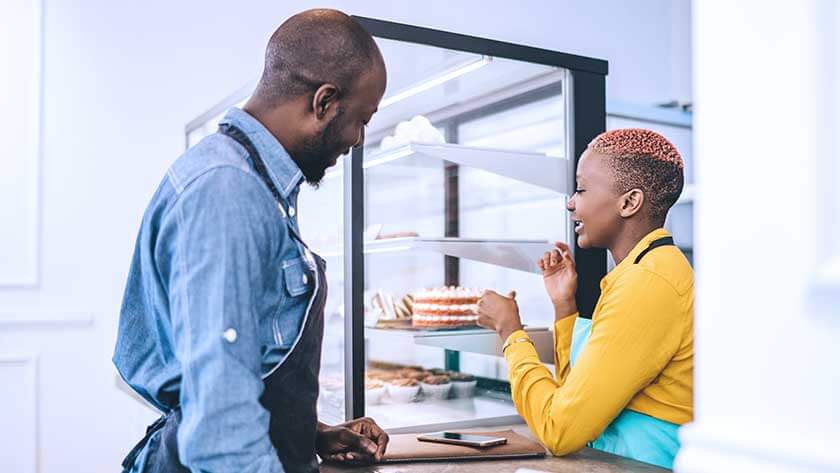 What Is Small Business Saturday?
The American Express company started Small Business Saturday in 2010, in the midst of the last recession, as a way to encourage people to "shop small."
The day was such a success that the U.S. Senate unanimously passed a resolution supporting it the following year, and all 50 states participated in some way. That year, groups started coalescing to promote the event, with business associations, nonprofit trade groups, and local government officials joining to help generate interest.
In 2015, the U.S. Small Business Administration began co-sponsoring the event, and by 2019 Americans were spending $19.6 billion at independent stores and restaurants on that day. That marked a significant increase from the $17.8 billion consumers spent on the same day in 2018.
All this spending on local businesses is great for residents as well as business owners. American Express reports that about 67 cents of every dollar spent at a small business stays and circulates in the local community.
How This Year Is Different
COVID-19's disastrous effect on small businesses is widely known and a major factor in the debate about how and when to reopen the economy.
"The pandemic has put a strain on most small businesses, especially those that operate solely from a physical location and have no online presence," says Patrick Connelly, cofounder of art retailer Stellar Villa. "During a time when online businesses have benefited, our local small businesses need our support now more than ever."
Looking at the numbers really illuminates the pain many businesses are feeling. As of May, three-quarters of clothing stores reported the pandemic having a major negative impact on their business. In July, a survey found that the median business with monthly expenses totaling more than $10,000 only had a week of cash on hand. Ominously, 62% of U.S. small businesses say they will likely go out of business soon unless spending returns to pre-COVID levels by the end of the year.
"Certainly, small businesses have been really quite devastated by the pandemic," says Ann Lim, a Washington DC-based SCORE business mentor. "Lots have already shuttered."
How Consumers Can Participate
To get in on Small Business Saturday action, look to local organizations that promote small business, such as economic development corporations. They are likely to be promoting Small Business Saturday as part of their general advocacy for independent businesses.
One example of the type of programs you may find in your own community is a program called Take Loudon Home, which offers an online presence and exposure for small businesses, farms, and craftspeople in Loudon County, Va.
If you're specifically interested in browsing brick-and-mortar stores, look for special promotions or displays leading up to the day. Social media can also help you learn which of your favorite small businesses will be participating. Some businesses may be setting up tables out front to attract those who aren't comfortable in indoor spaces.
"While we have seen people shopping with us more online during this pandemic, Small Business Saturday is an opportunity for us to increase our in-store foot traffic as customers visit our stores," says Rhon Hayes, cofounder of the Grooming Store franchise.
Small Business Saturday is a great reminder that small businesses are the lifeblood of our neighborhoods, towns, and cities. With the pandemic raging, it's more important than ever to make this special day a success.
"As a consumer, I will be visiting our local shops here in Brooklyn to search for unique gifts and also try some new local food," says Connelly. "I enjoy doing my part to support the businesses in my community."