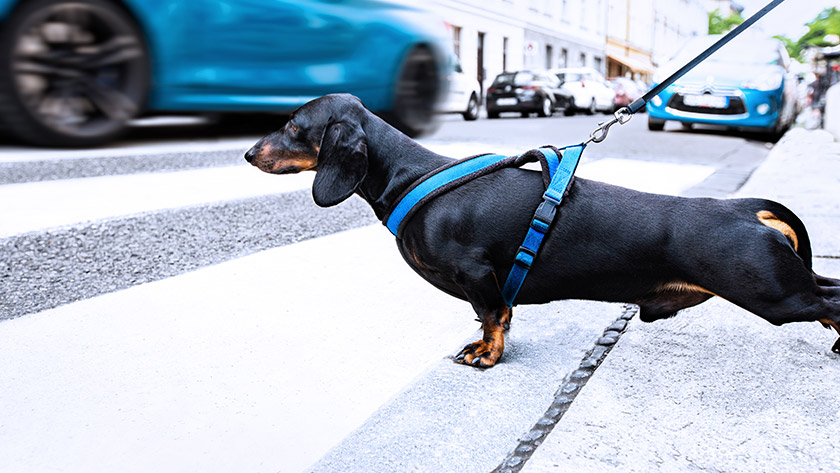 What better way to combine a love of dogs with the need for a career than a dog walking business? But before printing your business cards and spreading the word, there are a few other things you'll want to think about.
Running a Dog Walking Business
While a many hours of a dog walker's working time is spent with dogs, a dog walking business is like any other business. In addition to playtime with the pooches there are less joyous tasks like invoicing, bookkeeping, advertising, marketing that are necessary to keep a business running smoothly.
Despite the additional responsibilities of running your own business, though, there are many things that make starting a dog walking business worthwhile. High on the list is doing something you love. 
"Be sure this is something that you love and care about. I find that the more I care about the community, volunteer and give back, the more my business prospers," advises Bobbie Smith, general manager of Fetch! Pet Care of Silverlake-West Pasadena.
"When people see how much you care, they want to be involved with you and they want their friends to be involved with you."
Does Your Area Need a Dog Walker?
So you feel comfortable with all the non-dog-walking aspects of starting a dog walking business. What's next?
Before you start looking at the practical aspects of how to start a dog walking business do some research to determine whether there's any demand for dog walkers in your area, and also how much competition there is. 
Talk to the people at your local pet store and pet grooming services. Classified ads, both online and locally, are another source of information, as people will sometimes post ads looking for dog walkers.
If the demand seems high enough to support your business, it's time to look into the competition. Search online for local dog walking businesses, and check places like Craigslist and other online classified sites to see how many people are offering dog walking services.
Training
Dog walkers need be able to maintain control over the dogs in their care. Whether you volunteer at the local shelter or take a formal dog training course, gaining experience in interacting with a variety of dogs will help prepare you to offer your dog working services with confidence.
Legal Considerations
There are a number of legal issues that can arise with a dog walking business. You may be tempted to skip these steps "until my business grows" but as with any business, doing it right from the outset may mean extra effort up front, but will reward you in peace-of-mind and even protect you.
Choosing a Business Entity
While it's certainly possible to run your dog walking business as a sole proprietor, you may want to consider choosing a different legal form of business. Because you'll be responsible for the dogs you'll be walking, including any damage done by or to them, a form of organization such as a limited liability company or a corporation will give you more protection by separating your business assets from your personal assets
These business entities do generally require more in terms of costs and maintenance—for example, you'll have to check to see if your state requires annual filings, and the tax forms for a corporate entity are more complicated than those for individuals—so you'll need to weigh the additional costs in both time and potential fees to determine if it's a choice you should make.
Licensing 
Most jurisdictions don't require dog walkers to get a license specific to dog walking, but many states do require business owners to get a general business license.
Licensing requirements, whether for dog walking specifically or for businesses in general, will vary from jurisdiction to jurisdiction, and you'll need to investigate the requirements that apply in your specific area.
Local Rules and Regulations
As a professional dog walker, it's your responsibility to know about any local regulations that may affect you.
Many jurisdictions have dog sanitation regulations, which require people to clean up after their dogs. There may also be leashing laws, which state where dogs have to be on leashes and where they are permitted to run off-leash.
Check with the local authorities to see what rules and regulations will affect your business. If you decide to offer dog sitting services in your home in addition to dog walking services, you should also check your local zoning regulations to make sure this is permitted.
Dog Walking Contracts 
It's important to have a written contract between your business and each of your clients. A contract will set out, among other things, your responsibilities in walking your client's dog, the nature of your relationship with your client and the terms of your compensation.
It's also a good idea to have your contract cover other items specific to dog walking, such as an authorization for you to obtain emergency medical care for your client's dog as well as the owner's responsibility for damage done by his or her dog.
Having a written contract with each client doesn't mean you have to go to a lawyer every time you sign on a new customer. Many dog walking businesses use templates such as this sample dog walking agreement, which can be customized for each individual client.
Insurance Requirements
As a dog walker, you'll be responsible for the dogs you're walking during the time they're in your care. This includes not only damage done by the dogs, but also any damage that may be done to the dogs.
Accidents can happen to the most careful dog walker. It's best to safeguard yourself by purchasing proper insurance coverage.
There are insurance policies available specifically for people and businesses that deal with pets, so check around for the policy that will be best for your needs.
If you intend to hire people as dog walkers, you should also consider bonding for your business, which will protect you in the event of an employee theft of client property.
Franchise Opportunities
Before starting your own business, you may wish to explore the option of purchasing a franchise instead. With a franchise, you get the benefit of the franchise's business plan and systems, along with any marketing or advertising the franchise does.
While purchasing a franchise can be costly, you may decide that the benefits outweigh the costs.
When Bobbie Smith decided to go with the Fetch! Pet Care franchise, she was working in an office. Four months after purchasing the franchise, she was able to quit her job. "It should be noted, though, that I didn't require a large income in order to do this," she points out. "My husband was able to cover a majority of our expenses."
What are some of the advantages of going with a dog walking franchise? "I had an almost immediate revenue stream," says Smith. "The name was known in Los Angeles and I was able to profit from that. There are other franchises that make significantly more than mine does, but mine made enough within a couple of months for me to quit my job. I don't know that this would have been the case if I had branched out on my own."
A Rewarding Career
Running your own dog walking business, whether you start your business on your own or purchase a franchise, can be a very rewarding career. But before you take the plunge, do the research, make sure you've met all the legal requirements and protect yourself with proper insurance. You want your business to prosper, and putting together a solid foundation before you start out will help you on your road to future success.