Social media marketing is a critical part of any modern business' marketing plan. It helps a company get its name out into the world, spread its message, and sell its products and services. To succeed today, business-to-consumer companies need to be on social media.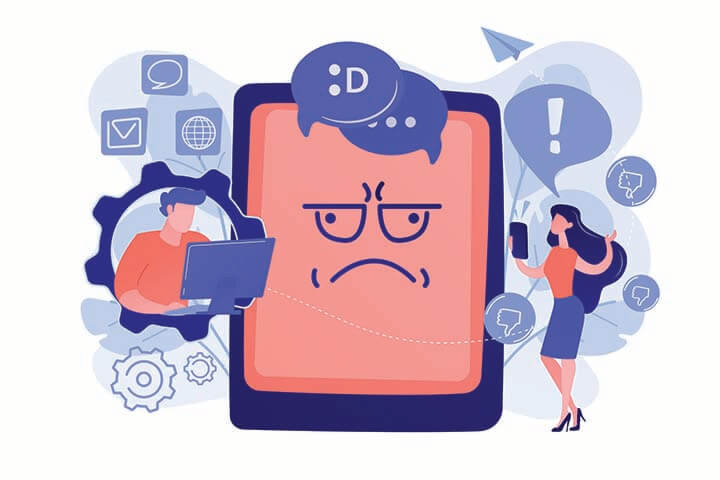 But what happens when trolls hijack a social media feed? What if a campaign is received poorly, and thousands of people tweet negative things about a company? What if a company makes news headlines for all the wrong reasons and its reputation is damaged?
Today, trolls are a real threat to companies. Their negative actions can cause a company not only to lose money, but also to have its good name dragged through the headlines. Negative social media attention can turn off customers and prevent new ones from purchasing products.
Before starting a social media marketing campaign, your company must know how to deal with social media trolls because they try to destroy everything you've worked hard to accomplish. Here are some tips for how to deal with trolls on social media in the right way.
Don't argue in public
If a person posts a legitimate complaint about your company, it's best to post something succinct to show that you are addressing the problem, then message that person privately to work out all the details and figure out a solution, according to Matthew Bretzius, president and partner at FischTank PR.
"Most of the time, doing this swiftly is enough to show the consumer you care and want to remedy their issue," he says. "In the event [that] someone is clearly trying to troll or harass, or they are posting things to your page or timeline that are inappropriate, you can always block them from your page."
Have a crisis management responder on hand
Someone at your company should have the job of exclusively running your social media marketing campaigns and dealing with trolls and other customer issues that may come up. It shouldn't be someone who takes all attacks or negativity personally, according to Steven Fuller, idea instigator at Fuller Creative, LLC.
"[You need] someone who is knowledgeable and close enough to the brand to represent it, but not so emotionally tied to the brand that responses come from a place of passion," says Fuller.
Don't delete posts
When you're trying to determine how to keep trolls from attacking you on social media, one of the number-one rules is not to anger them and cause them to lash out. One of the ways you may upset them, even more, is by deleting their posts, which is a big no-no, said Bretzius.
"You have to remember that social media is a public forum, and people have a right to comment. Oftentimes, deleting these types of posts just angers the original poster, and they come back full force with more," he explains.
Don't attack back
Though it may be tempting to stand your ground and attack your social media trolls back, that's not going to make your company look good. According to Fuller, it's best to ignore them and not to feed the flames. "These types of 'bad actors' aren't interested in resolution, but to be the center of attention," he said. "The best response is no response."
The worst thing you could do is to make a personal attack based on someone's race, sex, gender, etc. And if the attacks social media trolls make are violent or threatening, Fuller recommends calling the authorities and contacting the social media platform so they can handle the issue.
Whatever you do, you're being monitored at all times, and nothing goes away online. That's why it's critical that you handle social media trolls in the correct fashion.
"Remember that the internet is forever, and approach every response like someone is waiting to screenshot and repost it," says Fuller. "Make sure that screenshot is representative of you, and of your brand."
Find out more about Marketing Your Business