Shelter-in-place orders have brought a new meaning to work-life balance now that many workers have moved their offices into their homes. It's not just that they have to work from home, it's that they have to work from home with their spouses or roommates or children. Everyone has to carve out a space to get their work done, be it work-work or homework. And somehow, everyone needs to stay out of everyone else's way.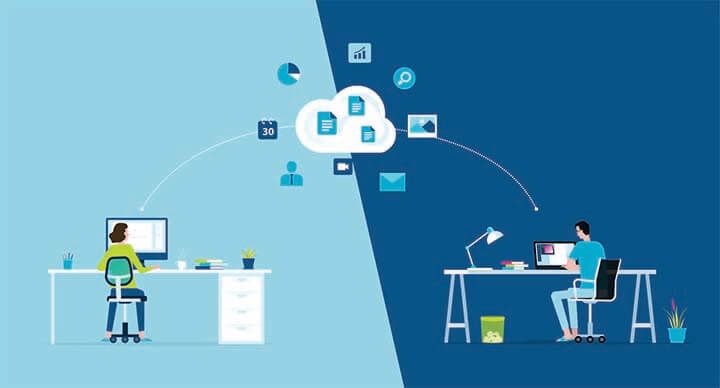 What are you supposed to do? Here are a few pieces of advice from workers creating a new kind of work-life balance.
Communicate Your Needs
When Nina Krol, community manager at Zety, found out she would be working from home, she knew she had to set down some ground rules and explain why it was so important for her to stay focused. With children at home, she knew if she didn't, work wouldn't get done. Getting everyone on the same page is going a long way to ensuring everyone can get done what they need to get done without hurting anyone's feelings.
Marty Basher, organization specialist with Modular Closets, adds, "It's essential to talk openly to your kids about what you need to accomplish each day and what's expected of them." That way, everyone feels accomplished at the end of the day.
Stake Your Claim
Sometimes the kitchen table is the only place you have to set up shop. Even if you have a better choice, claim your space. Make sure all members of the family know that's where your work has to happen. "We agreed what area of the house would be devoted to my work-time and that I should be treated as if I weren't there when I'm working," says Krol.
Create Your Office
"The goal," Basher says, "is to create separation between your work and your home life so that not everything is blending together at all times." If you have a door, close it. "It's like leaving the office behind for the evening and taking your very short commute to the living room," Basher explains.
If you don't have the benefit of a door, get creative. Basher recommends noise-canceling headphones. You can find inexpensive Wi-Fi headphones that can be connected to your smartphone and computer, so you can cut down the noise you make as your children try to concentrate on their school work.
Make a Plan
Just designating a space and agreeing that you won't interrupt each other throughout your workday is one thing, actually making that happen is another.
"I didn't expect my family to just roll with it," Krol says. Each evening, she and her family would make a plan. They would sit down and draw a color-coded schedule that was fun to look at to hang on the refrigerator.
"There's playtime," she says, "time for meals, home duties, and there's time for work. We all make sure it is well-balanced and that there are activities scheduled for others for the time I'm engaged at work."
Be Flexible
"You're not in the office anymore; stop acting like you are," says Brian Murray, manager of local marketing for BI-LO and Harvey's Supermarkets who has worked remotely for the last seven years. "It's time to create a new work-life balance."
Murray recommends you:
Incorporate at-home chores into your daily schedule. "Block out time in your Outlook to cook, walk the dog, and help the kids with their schoolwork the way you would with a meeting or a work project."
Work and workout. "Wondering what to do during that conference call that could have been an email and/or has nothing to do with you? Jump on the treadmill or walk the dog during that time."
Schedule everyone. "Putting each member of the family on the schedule, including your pets, will minimize interruptions during the day."
Give a Little Reward
"After sticking to a daily schedule, you need to give it proper importance," Krol says, "and a pleasant surprise should be planned for those who play along and follow the rules."